5 Creative Ways To Use Genius Scan In Your Everyday Life
Scanning apps are useful for digitizing, organizing, and preserving important documents. But not all documents are identical, and not everyone uses Genius Scan the same way. As our number of users has grown and Genius Scan's uses have widened, here are some creative ways some of you have come up with to use our app in your everyday lives.
The nostalgic way: scan your concert stubs
Do you have souvenirs or mementos that bring back fond memories? Perhaps you have concert tickets, postcards, or other keepsakes that you like to revisit from time to time. By storing these items digitally on your smartphone, you can easily relive these memories whenever you want. Plus, no more worrying about losing them.
Michael from New Jersey collects stubs from Bruce Springsteen's shows he's attended over the years and uses Genius Scan to store them in a special folder, a convinient way to organize documents thoroughly in Genius Scan.
"I've been a Springsteen Fan since college in 1975. I grew up in NJ, so many of my early shows were in the NJ/NY area. I mostly scanned these stubs to have a list of every show I attended and the original price of the show. Unfortunately, most tickets are digital today, and they no longer have printed tickets."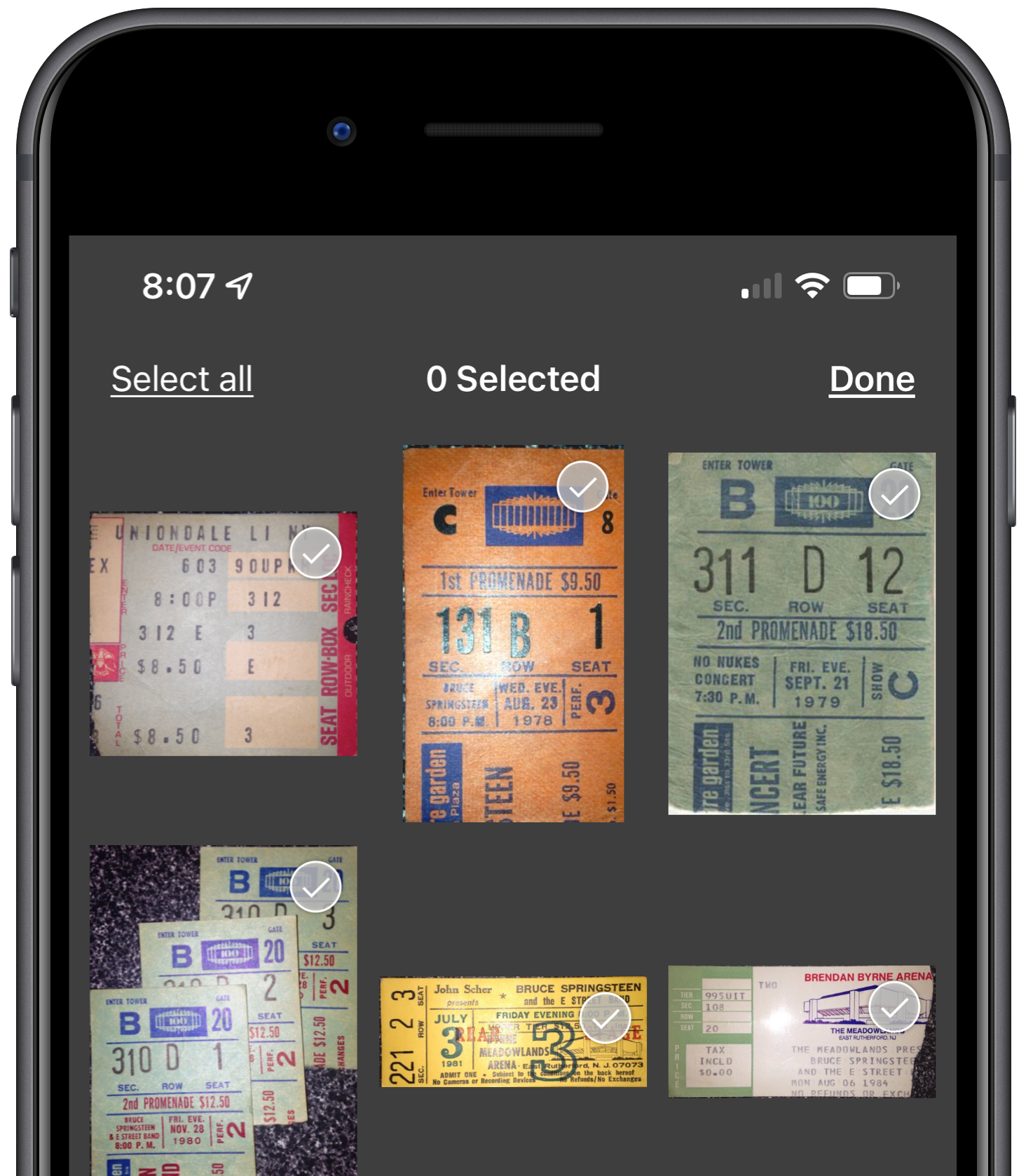 The practical way: gather your loyalty cards
Tired of carrying a bulky wallet filled with loyalty cards? With Genius Scan, you can easily scan and store all your loyalty cards in one folder. You'll feel lighter, both physically and figuratively, as you won't have to worry about forgetting that one card you needed today! Especially when you have so many of them.
That's how Randy from Colorado uses Genius Scan: "I find myself using it most often to keep my wallet thin. In other words, I scanned all the cards that most people carry around in their fat wallets… so I have them easily retrievable from my iPhone. For instance, I haven't carried my library card in years, but I use a digital image of it from Genius Scan at least weekly when I go to the library. Their self-checkout scanner has no problem recognizing the barcode on it."
If like Randy, you have lots of loyalty cards stored in Genius Scan, use the search bar to quickly find the one you need by its name or even its content.
The foodie way: save your recipes
As the saying goes: "If you stay ready, you ain't got to get ready". Genius Scan can come in handy to store information that you need easy access to anytime, anywhere. Paula from Canada uses Genius Scan to store her favorite cooking recipes, so she can easily access them when she's on vacation or away for a weekend.
"Genius scan allows you to name the files, so I put the recipe name in. If we go to a cottage, then I have all the recipes with me. If you are getting groceries, then you can look up the recipe while you are at the store and get what ingredients you need. When I give out my pastries or take some to work, and someone wants the recipe, I can send it from my phone."
Having your recipes on hand makes it easy to share too. It takes less space and generates less clutter than having pieces of paper around. PS: it can be particularly useful around Thanksgiving.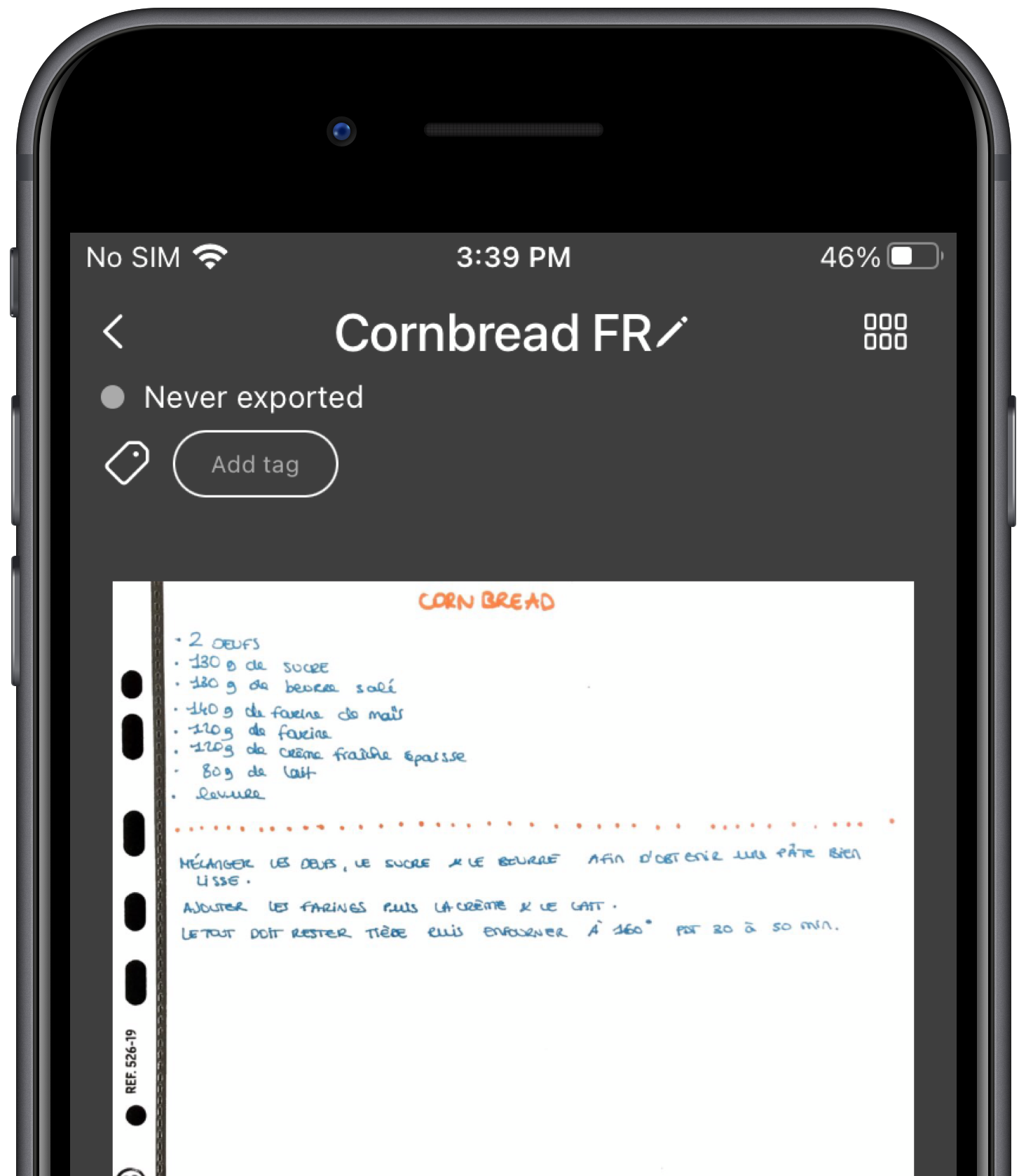 The preventive way: store your pets' ID (also works with children)
In emergency situations, having important information readily accessible can make all the difference. With Genius Scan, you can store a scan of your pet's ID on your phone, making it easy to identify them and provide necessary information to authorities or veterinary professionals in case of an emergency.
Darlene runs a non-profit dog rescue in Arizona: "I keep all vet records, adoption contracts, and surrender forms on Genius Scan. I keep them organized and easy to access so I can stay on top of my game and never lose a single document."
Eileen, from California, does the same: "I scan all important papers and documents. I also scan records for the foster cats and kittens I manage."
The motivational way: track your fitness progress
Another creative way to use Genius Scan is by storing scans of your gym session logs. It's a great way to keep track of your progress and share your routine with your coach, just like Jean from Paris does to stay on track with his fitness goals.
"I go to the gym almost every day and take my workout goals seriously. That's why I keep track of everything I do at the gym and also what I eat so that I can share it with my coach and nutritionist.
At the end of a session, I snap a picture of my exercise log to keep track of my progress. I organize everything in folders by month and email it to my coach and nutritionist whenever I need to. It's really easy to do. What's even better is that Genius Scan saves me money on training apps. I just carry a sheet of paper and a pen with me to the gym, jot down my reps and sets, snap a pic with Genius Scan, and voilà!"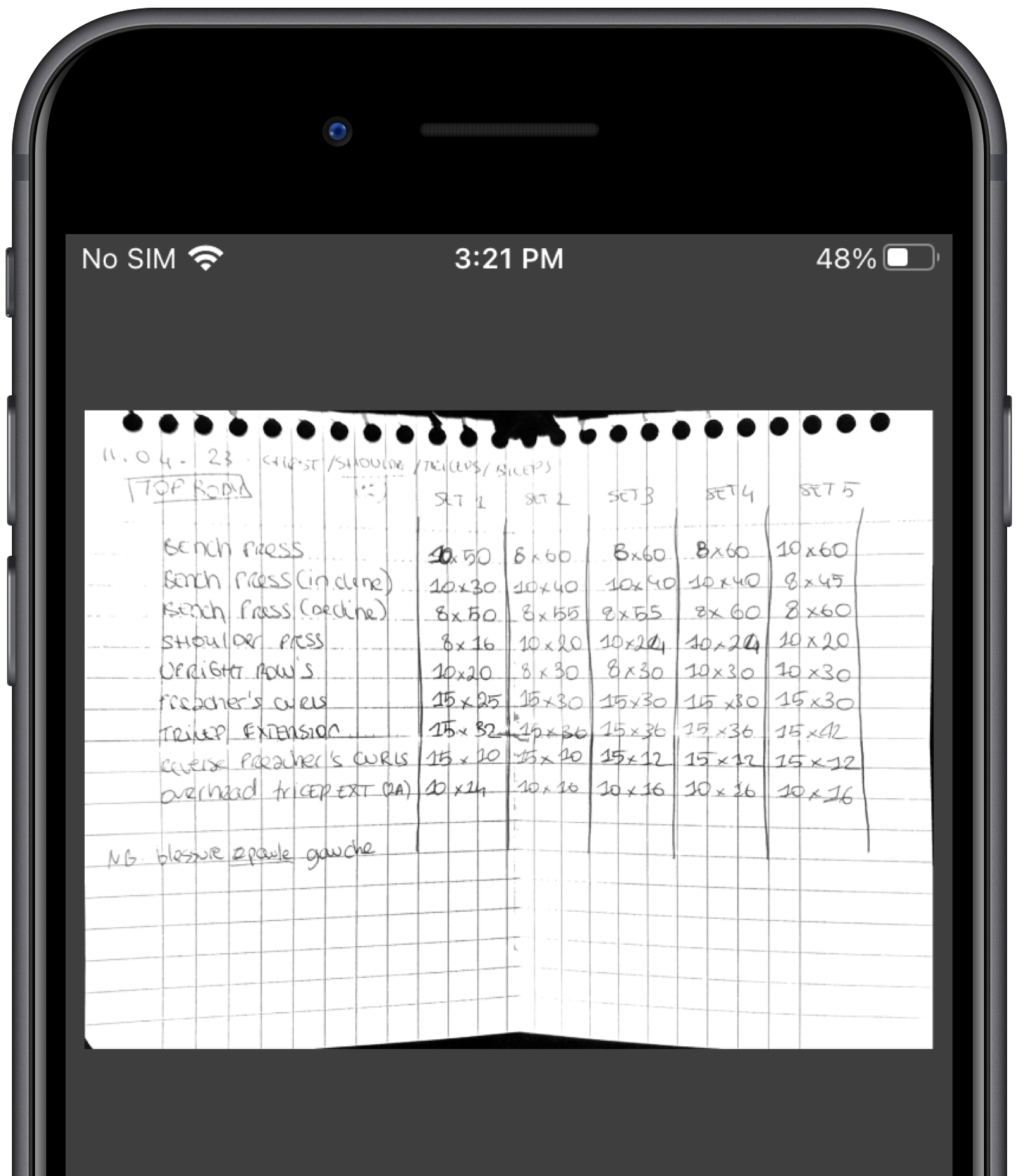 We love to see Genius Scan used as a motivational tool that helps celebrate achievements!
If you need more examples of how to use Genius Scan in your daily life, read our Top 5 Reasons Why You Should Use a Scanning App Like Genius Scan.
---