There are better ways to spend time in life than to do paperwork. We designed the latest update of Genius Scan with this perspective in mind and we are excited to make it available to you today, for both iOS and Android.
Faster
About 6 years ago, we launched the first version of Genius Scan which made life easier for millions of you. No need to own a scanner anymore, no need to walk to the copier in the office anymore, no need to go back to the office after a business trip to scan important documents. The scanner is in your pocket.
Today, we take it a step further by making scanning documents twice as fast!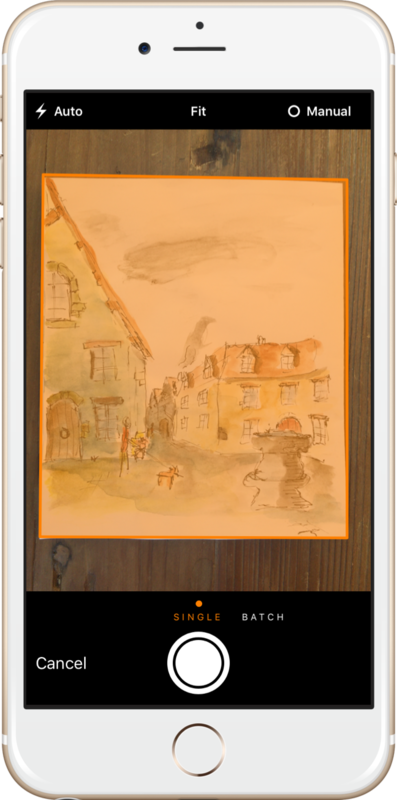 We achieved that by reinventing the scan flow:
A Batch Mode lets you digitize several pages in a row, removing the multiple steps required to save each page individually to a document. The batch mode also lets you import multiple photos from the gallery!
The accuracy of our proprietary Document Detection Technology at the core of Genius Scan has been improved so that it detects the user's document in 90% of the cases; this means that you don't have to manually edit the detected document anymore.
The Document Detection has been made 3x faster: you can now see in real-time if the document has been accurately detected.
The Magic Mode automatically snaps the photo for you without manual intervention as soon as the document has been detected.
Genius Scan 4 will save about 25 years of humanity's time each year!
Given how many documents are scanned with Genius Scan, these changes will save more than two years of people's life every month! Obviously, we love scanning but there are better things in life to do!
Better
In every way, Genius Scan 4 is better than ever:
Redesign
Genius Scan keeps the clean look you love, but the user interface has been refreshed for faster access to most features.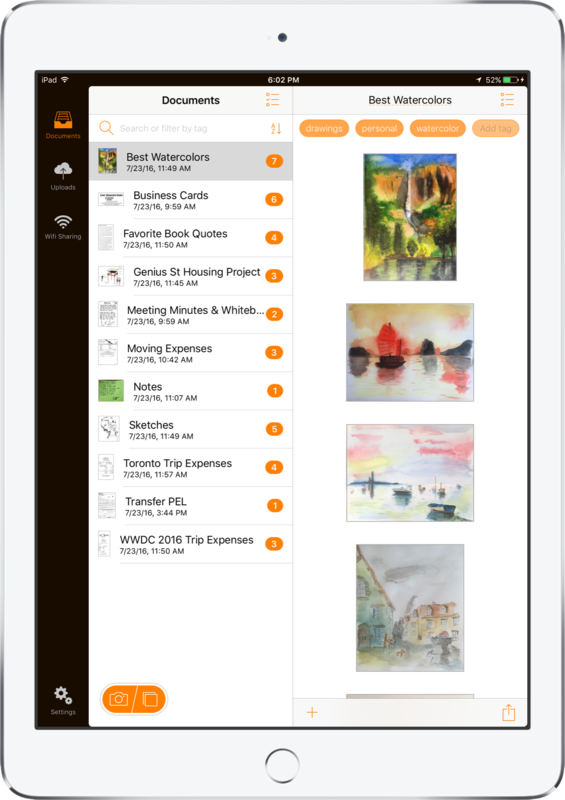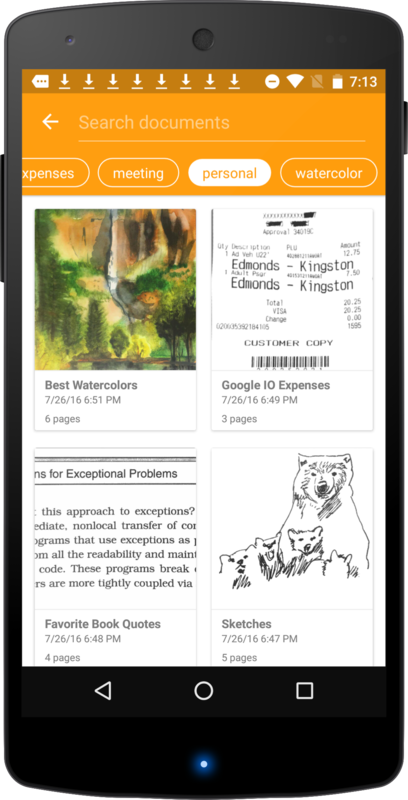 Scan Editing
Previously, Genius Scan would only let you modify your scans right after snapping the photo. That's a thing of the past now: you can change the cropping area and the enhancement applied to your scan at any time.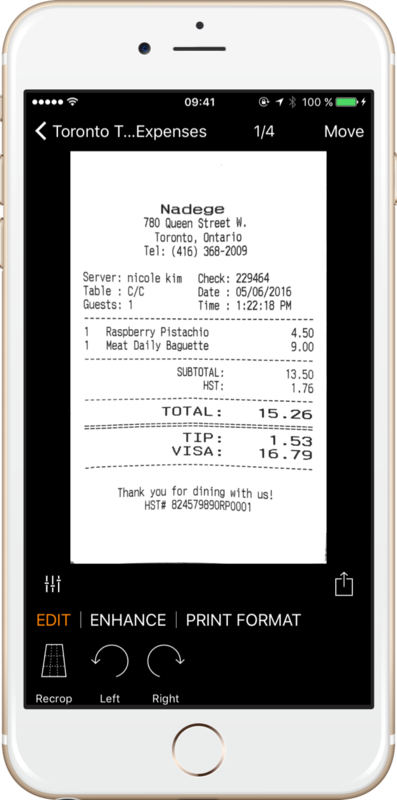 Improved Tagging
Adding a tag is much faster and requires less taps. You can now filter your documents with multiple tags (eg. "expenses" and "travel") in the main search field. No need to open the side menu anymore.
Powerful Smart Document Names
That's a feature for power user, but you might be one without knowing it. Smart Document Names let you name your documents with flexibility.
You can now create multiple smart document names and you will choose which one to apply when saving. Patterns can be such as [date]-Expenses or [latitude]-[longitude]-measurement.
Smart Document Names can include a prompt when saving the document. Say you scan a document for a customer, you can use a [customer name prompt]-file smart name, and when you save the document you will be able to enter the customer name in the text field.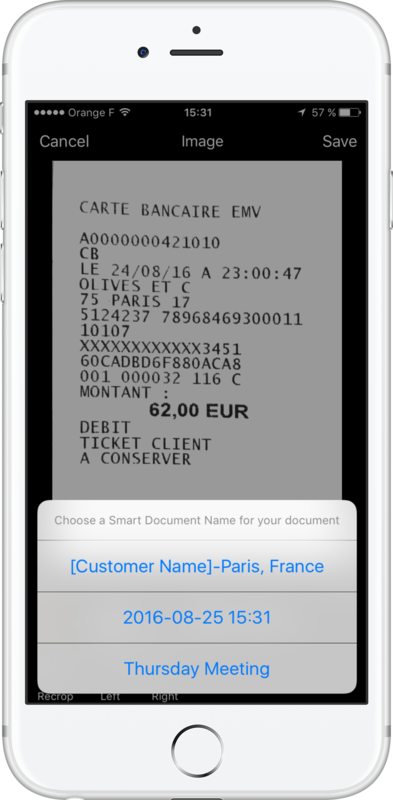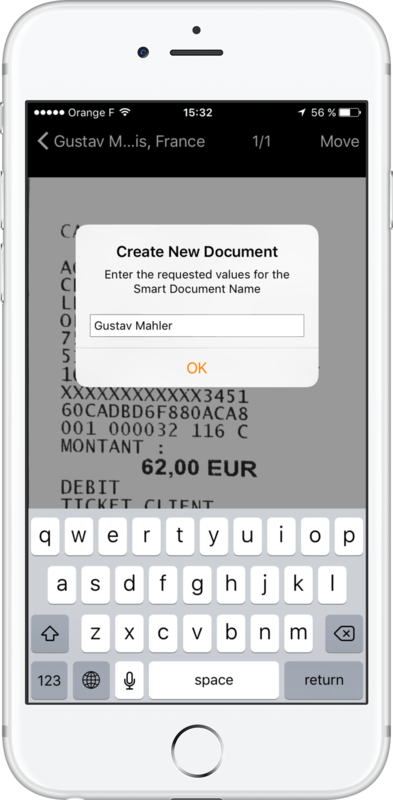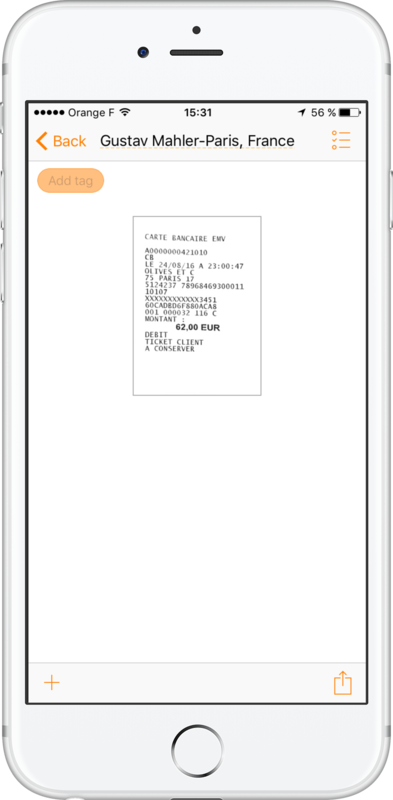 Upload History [iOS]
The Upload History is now directly accessible from the main screen. It lets you access your previous exports even if you hadn't saved the scans in Genius Scan.
Miscellaneous
Auto-Upload can be turned on over 3G in the settings.
Added support for shared folders in OneDrive.
Per page print format (now the A4/Letter/Legal/etc. settings apply to each page independently and not to the entire document).
Wifi Sharing accessible in the Upload History panel.
Page orientation is now automatically detected from the aspect ratio of your scan, so the settings for page orientation has been removed.
Stronger
A new build would not be a new build without bug fixes. While Genius Scan 3 was already rock solid, we've fixed dozens of small bugs and annoyances.
We are also excited to announce that Genius Scan for iOS and Android are now on par feature-wise though each of the two apps has been carefully crafted for its platform.
All in all, we are tremendously excited about Genius Scan 4, the new opportunities it opens and particularly the time it's going to save for our users. We are looking forward to your feedback, please do email us!
---
Recent posts
Genius Scan is like a document scanner in your pocket. As you're back to school, whether in person or remotely, drop Genius Scan in your schoolbag to make yo...

According to the New York Times, teaching during the pandemic is a challenge that many teachers never faced. The newspaper presents Sarah Gross, a high schoo...
2020 was the tenth anniversary of Genius Scan's creation. We had planned to throw a party, but the pandemic decided otherwise. Luckily, we've been able to fo...

The Holiday Season is a time of gathering. This year makes it difficult or unreasonable for families to reunite, so you might not have the opportunity to all...