Genius Scan 3.6 with iOS 8 compatibility
We keep making scanning and exporting your documents easier with Genius Scan 3.6.




Specifically, for iOS 8, we are excited to introduce a number of new features:


Export your documents to iCloud Drive
With iOS 8 (and soon MacOS X Yosemite), Apple introduced
iCloud Drive
, an easy way to save all your documents in the same place, wherever they come from. To export to iCloud Drive, just use the
Export
feature as usual: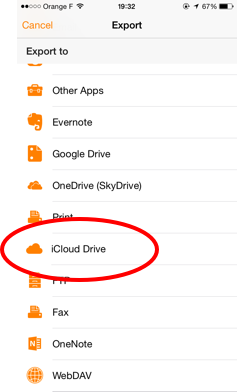 Export to iCloud Drive
Import scans from iCloud Drive
It's also possible to import scans from iCloud Drive in Genius Scan to process them and use them as part of a PDF file. To import a scan from iCloud Drive, perform a long press on the Photos scan button and choose your image document: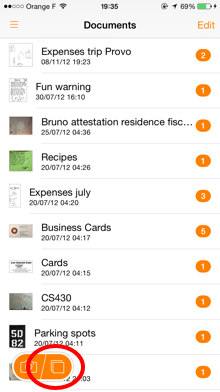 A long press on the Photos
button triggers the import
from iCloud Drive.
Compatibility with the new iPhone 6 and iPhone 6 Plus
The new iPhone 6 and iPhone 6 Plus offer larger screens with more real-estate. By default, Apple scales app so that they use the full screen, but it looks a bit blurry. Being compatible with the iPhone 6 and iPhone 6 Plus, Genius Scan will look great on those phones. Genius Scan takes advantage of this larger screens to display more of your documents.




***



We think that iOS 8 is a great update, and as of iOS 8.0.2, there are no known issues that should prevent you from upgrading. But if you decided not to upgrade (or if you can't), we have a load of new features coming for everyone:


Support for choosing a location when exporting to OneNote (notebook and section)
Your OneNote account is organized in notebooks, and each notebook is subdivided in sections. With Genius Scan, you can now choose in which section of which notebook you want to export your documents.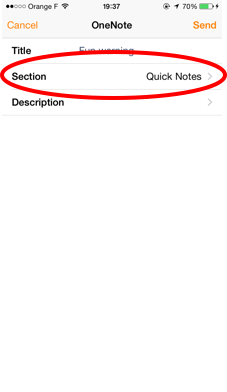 Select the destination as you
export to OneNote.
Ability to scan from the Photos or iCloud Drive when adding a page to a document
Before this version of Genius Scan, it was easy to add a new scan to a document from the camera, but not from your photos. Now, when you tap the + button in an existing document, you will have the choice to import from the camera, your photos or iCloud Drive.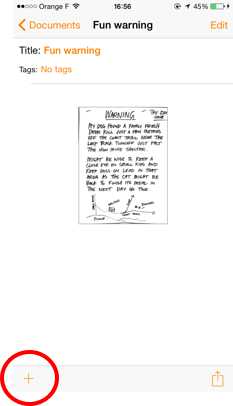 Tap on the add button at the
bottom of the document view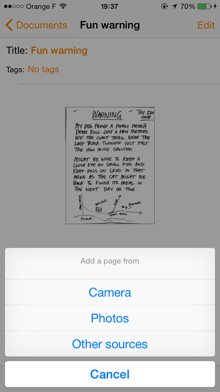 Select the source when
adding a page to an existing
document.
Ability to use self-signed certificates with WebDAV.
Sometimes, when you host your own WebDAV server, you don't want Genius Scan to reject self-signed certificates. You can then turn on the self-signed certificate option (use with caution !)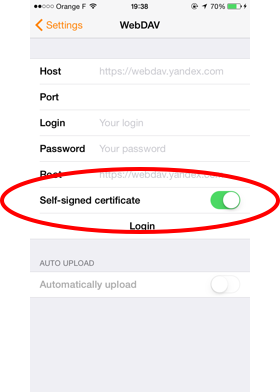 The self-signed certificate option
is located in the WebDAV settings.
Updated self-help system
Also available at help.thegrizzlylabs.com, our updated help system offers great tutorials and answers to all your questions. And if you can't find an answer, we're always an email away.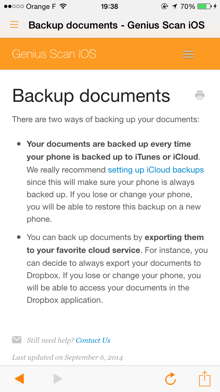 The new help system



And of course, we fixed a bunch of nasty bugs.
---
Recent posts
More and more entrepreneurs are looking for meaning when they create their businesses.May that be in what they make or what they plan on doing with the money...

Today, we're sharing Kay Sluterbeck's testimony. Artists all abroad, if you want to learn some useful tips and tricks, this one is for you.
Genius Scan isn't just merely a scanning app that allows you to export your scanned documents by hand. You can save yourself some valuable time by setting up...

Genius Scan is like a document scanner in your pocket. As you're back to school, whether in person or remotely, drop Genius Scan in your schoolbag to make yo...