**[Update] Dec 18, 2017**: We removed Jotana from the App Store because we no longer support them. We recommend to use the [official Asana apps](https://asana.com/apps/asana) instead.
Today we are excited to announce a new update to Jotana.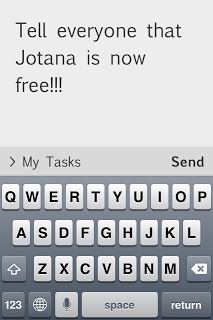 With this update, Jotana now uses OAuth to let you login, so you can now use your regular Asana login and password to sign in! Thanks Asana for supporting OAuth.

Did you know that Jotana would use the first period to split between the title and the content of the note? Now Jotana will be smarter and only use period followed by spaces. And you can also use carriage returns.

We also fixed a bug with the project display.


Last but not least, we are now making Jotana free for everyone to enjoy. We have found it tremendously useful for our own use and thought more people should benefit from it. So spread the world and help your friends and colleague!






Have a great and productive week!
---
Recent posts
We have officially joined the 1% for the Planet movement.

Genius Scan has always supported the major world languages, but we decide to take a step further: Genius Scan 5.2.1 localizes the interface for nine addition...
With Genius Scan 5.2, we wanted to make the scanning experience even better. We focused on the feature that was most requested by our users: text recognition...

"But… now that you've created Genius Scan, what are you working on?", friends keep asking us. Well, Genius Scan is never done. We have been working on it for...