How to Send Scans to your Computer
Quite often you may want to send the documents you've scanned with Genius Scan for iPhone to your computer. There are several ways of doing that.

Send the file to yourself by email. Hit the export button and choose Email as an option. Then just open that email you just receive and download the attached scan. It works, but it's a bit tedious.
Activate the Wifi-Sharing in Genius Scan and open your browser at the specified address on your computer; there you can see all your documents and choose the one you like.
Wifi Sharing
But the simplest way is probably Dropbox. Just send the file using the Dropbox version and the scan will magically appear on your computer within seconds. Dropbox is available in Genius Scan+ (you can also unlock Genius Scan+ as an in-app purchase in Genius Scan).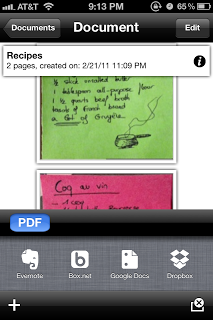 Choose Dropbox to send a file
to your computer.
---
Recent posts
Genius Scan is like a document scanner in your pocket. As you're back to school, whether in person or remotely, drop Genius Scan in your schoolbag to make yo...

According to the New York Times, teaching during the pandemic is a challenge that many teachers never faced. The newspaper presents Sarah Gross, a high schoo...
2020 was the tenth anniversary of Genius Scan's creation. We had planned to throw a party, but the pandemic decided otherwise. Luckily, we've been able to fo...

The Holiday Season is a time of gathering. This year makes it difficult or unreasonable for families to reunite, so you might not have the opportunity to all...