How to Send Scans to your Computer
Quite often you may want to send the documents you've scanned with Genius Scan for iPhone to your computer. There are several ways of doing that.

Send the file to yourself by email. Hit the export button and choose Email as an option. Then just open that email you just receive and download the attached scan. It works, but it's a bit tedious.
Activate the Wifi-Sharing in Genius Scan and open your browser at the specified address on your computer; there you can see all your documents and choose the one you like.
Wifi Sharing
But the simplest way is probably Dropbox. Just send the file using the Dropbox version and the scan will magically appear on your computer within seconds. Dropbox is available in Genius Scan+ (you can also unlock Genius Scan+ as an in-app purchase in Genius Scan).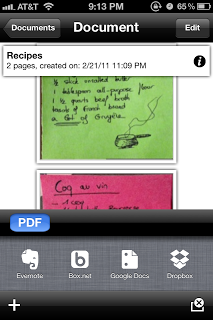 Choose Dropbox to send a file
to your computer.
---
Recent posts
Genius Scan lets you scan documents with your smartphone and archive them as PDF. Part of archiving them means naming your documents to be able to refer to t...

This new version is major redesign of Genius Scan, to make it even more beautiful and clearer so as to better highlight your documents and help you capture a...
Better safe than sorry

Genius Scan is a pocket scanner for iPhone, Android. Its purpose is simple: to help you quickly digitize documents, store them as PDFs and share them with co...