Genius Scan 2.3.2 Makes Expense Reports Easier
As always we strive to make it easier for our users to achieve theirs tasks. One of the most common task people use Genius Scan for is the preparation of expense reports. Genius Scan 2.3.2 will help you in a few ways:

First, we partnered with

Expensify to integrate with their new ScanAnywhere API. Expensify is the best expense report service around and some of our users were already using it with Genius Scan but had to fallback to work around using the email feature. Expensify is only available in Genius Scan+ (only $2.99)
Genius Scan 2.3.2 allows you to setup default email addresses. This is convenient when you always send your scans to the same address. Typically, yours or your company's accounting department. You can always add yourself in copy for later reference. This feature is available in both Genius Scan and Genius Scan+ and you will find it in the Settings.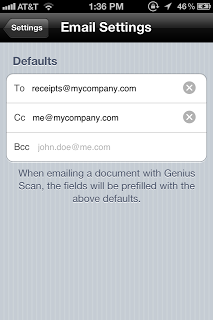 Settings for the default email addresses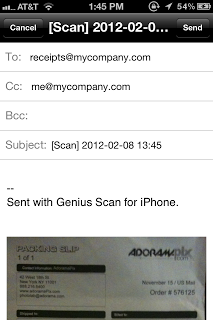 The email feature now uses these defaults.
Happy receipt scanning!
---
Recent posts
More and more entrepreneurs are looking for meaning when they create their businesses.May that be in what they make or what they plan on doing with the money...

Today, we're sharing Kay Sluterbeck's testimony. Artists all abroad, if you want to learn some useful tips and tricks, this one is for you.
Genius Scan isn't just merely a scanning app that allows you to export your scanned documents by hand. You can save yourself some valuable time by setting up...

Genius Scan is like a document scanner in your pocket. As you're back to school, whether in person or remotely, drop Genius Scan in your schoolbag to make yo...