Genius Scan 2.3.2 Makes Expense Reports Easier
As always we strive to make it easier for our users to achieve theirs tasks. One of the most common task people use Genius Scan for is the preparation of expense reports. Genius Scan 2.3.2 will help you in a few ways:

First, we partnered with

Expensify to integrate with their new ScanAnywhere API. Expensify is the best expense report service around and some of our users were already using it with Genius Scan but had to fallback to work around using the email feature. Expensify is only available in Genius Scan+ (only $2.99)
Genius Scan 2.3.2 allows you to setup default email addresses. This is convenient when you always send your scans to the same address. Typically, yours or your company's accounting department. You can always add yourself in copy for later reference. This feature is available in both Genius Scan and Genius Scan+ and you will find it in the Settings.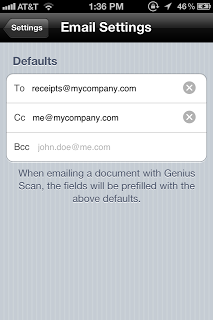 Settings for the default email addresses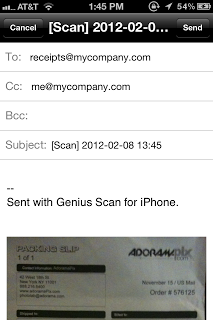 The email feature now uses these defaults.
Happy receipt scanning!
---
Recent posts
In February, we had the pleasure of welcoming a ninth-grade (14 year-old) intern at our company in Paris. In France, this is a time when young students are g...

Genius Scan's Text Recognition feature is built on Optical Character Recognition (OCR) and can help you save time.When your phone's camera takes a photo, the...
As part of our 1% for the Planet involvement, we support several Non-Governmental Organizations (NGO) that fight for the environment and try to help them rai...

Genius Scan is great for scanning tons of documents, but the curse of our mobile devices is to lack storage space. When device manufacturers make additional ...