Genius Scan for Windows Phone 7
We are pleased to announce the release of Genius Scan for Windows Phone 7.

Genius Scan for Windows Phone 7 is a complete rewrite of the original Genius Scan for iPhone to benefit from the features of the WP7 platform. The interface is really different from the iOS version; we use the beautiful Panorama Control. Exclusive to the WP7 version, we take advantage of this panorama to show your recent scans for easy access.


Recent documents


Genius Scan for WP7 includes the same great scanner features as the iOS version.

You can snap any document, correct its perspective (Genius Scan automatically detects the frame of the document for you) and enhance the scan (again, Genius Scan automatically detects the best enhancement or you can manually choose between a black and white enhancement and a color enhancement).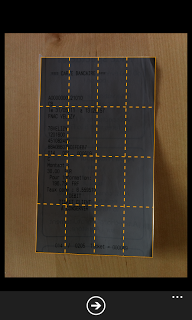 Genius Scan automatically detects
the documents for you.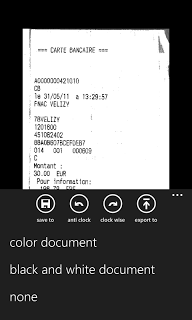 Clean up the documents
with the enhancement.


Your scans can be organized in PDF documents. You can export the scans and the PDF documents to services such as Evernote, Dropbox or the phone's Library.
---
Recent posts
In February, we had the pleasure of welcoming a ninth-grade (14 year-old) intern at our company in Paris. In France, this is a time when young students are g...

Genius Scan's Text Recognition feature is built on Optical Character Recognition (OCR) and can help you save time.When your phone's camera takes a photo, the...
As part of our 1% for the Planet involvement, we support several Non-Governmental Organizations (NGO) that fight for the environment and try to help them rai...

Genius Scan is great for scanning tons of documents, but the curse of our mobile devices is to lack storage space. When device manufacturers make additional ...