Genius Scan for Windows Phone 7
We are pleased to announce the release of Genius Scan for Windows Phone 7.

Genius Scan for Windows Phone 7 is a complete rewrite of the original Genius Scan for iPhone to benefit from the features of the WP7 platform. The interface is really different from the iOS version; we use the beautiful Panorama Control. Exclusive to the WP7 version, we take advantage of this panorama to show your recent scans for easy access.


Recent documents


Genius Scan for WP7 includes the same great scanner features as the iOS version.

You can snap any document, correct its perspective (Genius Scan automatically detects the frame of the document for you) and enhance the scan (again, Genius Scan automatically detects the best enhancement or you can manually choose between a black and white enhancement and a color enhancement).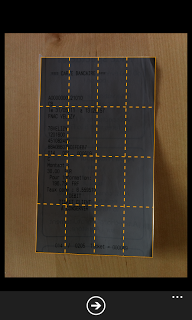 Genius Scan automatically detects
the documents for you.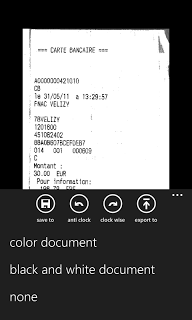 Clean up the documents
with the enhancement.


Your scans can be organized in PDF documents. You can export the scans and the PDF documents to services such as Evernote, Dropbox or the phone's Library.
---
Recent posts
We have officially joined the 1% for the Planet movement.

Genius Scan has always supported the major world languages, but we decide to take a step further: Genius Scan 5.2.1 localizes the interface for nine addition...
With Genius Scan 5.2, we wanted to make the scanning experience even better. We focused on the feature that was most requested by our users: text recognition...

"But… now that you've created Genius Scan, what are you working on?", friends keep asking us. Well, Genius Scan is never done. We have been working on it for...