Genius Scan 2.1 is available!
We are very excited to announce our latest release, Genius Scan 2.1.





Plenty of new cool features!

- Choosing the size of the PDF document before exporting it. In the initial version of Genius Scan, we had very high quality PDF files. But this made the PDF files very large and slow to send over the network. In Genius Scan 2.0, we balanced the quality and the resolution of the document with the file size. However, some users really need high quality documents. With version 2.1, the documents are stored in very high quality and Genius Scan offers you to resize the document before sending it. The behavior is exactly the same as when the Mail apps offers to resize a picture before sending it. Genius Scan offers different resolutions to choose from and estimates the file size: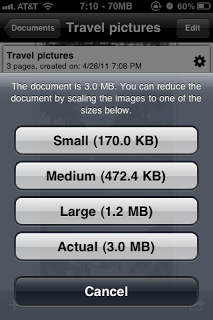 Resize on the fly before exporting!
- Default enhancement. By default, Genius Scan tries to detect whether the image is a black and white document or if it's a color document and applies the right post-processing. Some users always always use the same enhancement, no matter what. They are now able to set a default enhancement.
- PDF page size and orientation. You can also choose in the settings the page size and orientation. By default, the page size will fit to the image size. But you might want to use regular paper sizes so we added an option to choose that.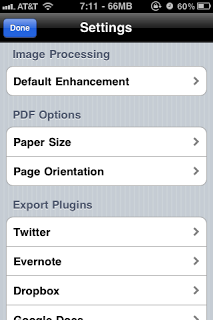 New settings: default post-processing applied
to the scans and PDF page size and orientation.
---
Recent posts
Tired of carrying around a bulky wallet stuffed with cards and receipts? You should be, as according to research performed by Stuart McGill, wallets can be a...

Summer is just around the corner, and whether you're planning a vacation or a business trip, managing physical documents can be challenging. From passports t...
Scanning apps are useful for digitizing, organizing, and preserving important documents. But not all documents are identical, and not everyone uses Genius Sc...

Although the use of fax machines has decreased with the rise of digital communication technologies, faxes remain a popular method of transmitting sensitive i...