Genius Scan 2.1 is available!
We are very excited to announce our latest release, Genius Scan 2.1.





Plenty of new cool features!

- Choosing the size of the PDF document before exporting it. In the initial version of Genius Scan, we had very high quality PDF files. But this made the PDF files very large and slow to send over the network. In Genius Scan 2.0, we balanced the quality and the resolution of the document with the file size. However, some users really need high quality documents. With version 2.1, the documents are stored in very high quality and Genius Scan offers you to resize the document before sending it. The behavior is exactly the same as when the Mail apps offers to resize a picture before sending it. Genius Scan offers different resolutions to choose from and estimates the file size: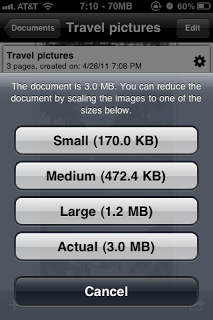 Resize on the fly before exporting!
- Default enhancement. By default, Genius Scan tries to detect whether the image is a black and white document or if it's a color document and applies the right post-processing. Some users always always use the same enhancement, no matter what. They are now able to set a default enhancement.
- PDF page size and orientation. You can also choose in the settings the page size and orientation. By default, the page size will fit to the image size. But you might want to use regular paper sizes so we added an option to choose that.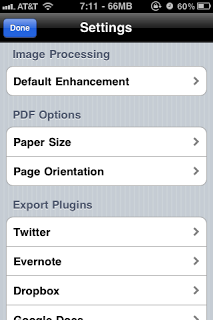 New settings: default post-processing applied
to the scans and PDF page size and orientation.
---
Recent posts
In February, we had the pleasure of welcoming a ninth-grade (14 year-old) intern at our company in Paris. In France, this is a time when young students are g...

Genius Scan's Text Recognition feature is built on Optical Character Recognition (OCR) and can help you save time.When your phone's camera takes a photo, the...
As part of our 1% for the Planet involvement, we support several Non-Governmental Organizations (NGO) that fight for the environment and try to help them rai...

Genius Scan is great for scanning tons of documents, but the curse of our mobile devices is to lack storage space. When device manufacturers make additional ...