How to share files over wifi with Genius Scan
Lots of people ask us how to share files over Wifi with the iPhone and Genius Scan. This is a feature available in both Genius Scan (free) and Genius Scan+ and it's highly convenient in order to quickly export large files from your iPhone to your computer.





1. Click on the "gear" icon

at the top-left corner of the main screen.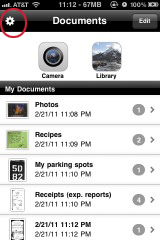 2.
In the "Access your documents" section,
tap the switch
to turn Wifi Sharing on.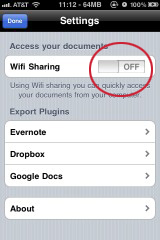 3.
The Wifi Sharing should start immediately and display an HTTP address below the switch.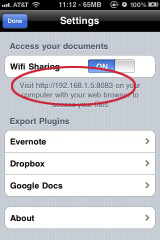 4. Go to your computer and enter this web address to access the Wifi Sharing.
5. Click on any document to download the PDF file.
Be careful when you use a public Wifi as anyone could access your documents while the server is turned on.
---
Recent posts
We are very excited to announce that Genius Scan 7 is out now!Launching today, this new major version of our high-quality scanning app provides you with time...

Some might think there's no need for a scanning app such as Genius Scan when you can just take pictures with your smartphone.We have to disagree.Scanning hel...
More and more entrepreneurs are looking for meaning when they create their businesses.May that be in what they make or what they plan on doing with the money...

Today, we're sharing Kay Sluterbeck's testimony. Artists all abroad, if you want to learn some useful tips and tricks, this one is for you.