Genius "Cloud" Scan 2.0 is out!
Today, we are releasing Genius Scan 2.0. While staying as easy to use as the original Genius Scan, Genius Scan 2.0 offers a beautiful new interface and new features.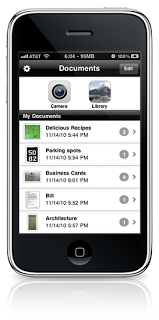 Genius Scan is all about speed and getting your scanning done quickly. That's why we improved the performance of the image processing algorithm. We also refreshed the interface in order to make the features easier to discover.

Lots of users complained about the large file size for the PDF files, so we worked hard on drastically reducing the file sizes while not compromising too much with the quality of the document.

And Genius Scan 2.0 is all about sharing and storing documents: in addition to emailing documents, it allows you now to export your documents to other application, to share your documents over Wifi (great to transfer large documents to your computer). And there is more: upgrading to Genius Scan+ will allow you to export them to the cloud using Dropbox, Evernote or Google Docs.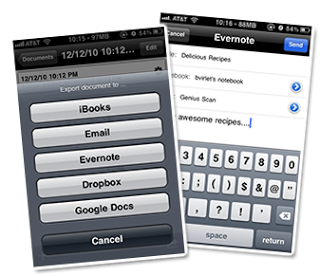 Genius Scan 2.0 cloud storage features Dropbox,
Evernote and Google Docs.
---
Recent posts
We have officially joined the 1% for the Planet movement.

Genius Scan has always supported the major world languages, but we decide to take a step further: Genius Scan 5.2.1 localizes the interface for nine addition...
With Genius Scan 5.2, we wanted to make the scanning experience even better. We focused on the feature that was most requested by our users: text recognition...

"But… now that you've created Genius Scan, what are you working on?", friends keep asking us. Well, Genius Scan is never done. We have been working on it for...