Genius Scan 4.3 comes with a brand new service, Genius Cloud. This is something that has been in the works for a long time because we wanted to really get it right. With Genius Scan 4.3, we are excited to offer document backup and synchronization in Genius Scan.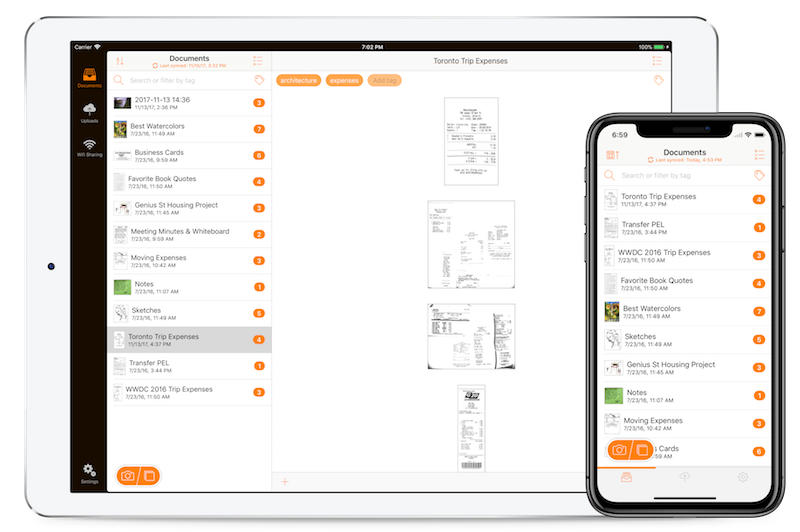 Back Up and Synchronize
Genius Cloud is an optional service that synchronizes your documents between your devices, and backs them up in the cloud. This means that if you lose your phone or your documents because of some unfortunate event (for instance if your cat decides to use your iPad), you will still be able to recover your precious documents.
Our users have always used Genius Scan to digitize important documents. A typical example: receipts. If lost, this can have implications for filing taxes or getting reimbursed by the accounting department.
One of the most common support requests we are received is "How do I access my documents?" Support requests are very important for us: they reveal the most common problems, and we aim at resolving those whenever it's within our control. We found that the reasons why Genius Scan's users couldn't access their documents anymore were always one of the following:
They migrated between iOS and Android, and want to transfer their documents.
They updated the OS and didn't properly restore a backup from iCloud or iTunes.
The app suddently disappeared from their phone (understand: they deleted the app by mistake)
They lost their phone or their phone was stolen.
They accidentally deleted a document
Genius Cloud solves all these issues in an elegant way.
How to Use Genius Cloud?
You can get started by tapping on the Sync button on the main screen, or just selecting the smiley tab in Genius Scan: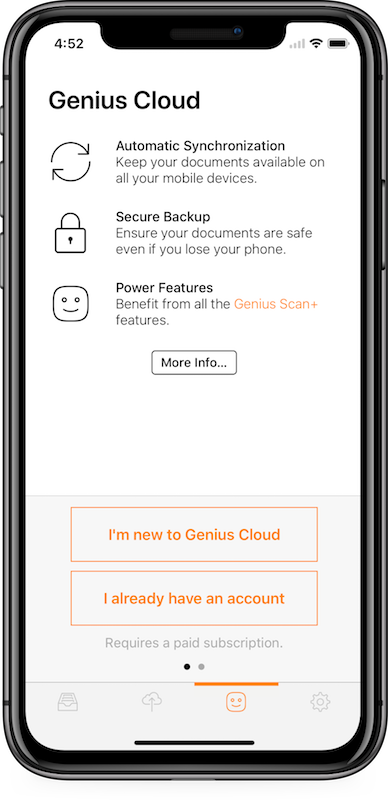 We will first ask you to create an account. This will let you connect multiple devices to the same account and synchronize the documents between these devices. If you lose your phone, you will also be able to reconnect your new phone onto your account (we also plan to let you access your documents from the web in the future, get in touch if this is something you'd like to see quickly).
Once you have an account, you need to purchase a subscription to the service.
As soon as your in-app purchase is made, you're good to go: your documents will automatically be uploaded to your account. This might take some time if you have a lot of them. Genius Cloud offers unlimited cloud storage.
A Sustainable Service
Genius Cloud is a paid subscription of $2.99/month (or $29.99/year) – or the equivalent in your local currency.
Some of you may wonder why we don't provide it for free. After all, Dropbox, Evernote, OneDrive, Google Drive all provide their users with a free document storage service to some extent. And everyone is so used to free services everywhere (Facebook …). The answer is simple: there is a development cost and a cost associated with running the infrastructure for document storage and synchronization. We are an independent company and plan to stay so. We are also not in the business of selling our users' data or hooking them in an addictive app to show them ads. In order to be a viable and sustainable business, we ask our users to pay for a service they deem useful.
In addition, subscribers of Genius Cloud will get access to Genius Scan+ on both iOS and Android for the duration of their subscription.
Genius Cloud is available now for all users of Genius Scan, existing and new. Just make sure you update to Genius Scan 4.3.
All in all, we are tremendously excited about Genius Cloud and the new opportunities it opens. We are already working on improving Genius Scan further. If you have any feedback, please email us!
---
Recent posts
Genius Scan is like a document scanner in your pocket. As you're back to school, whether in person or remotely, drop Genius Scan in your schoolbag to make yo...

According to the New York Times, teaching during the pandemic is a challenge that many teachers never faced. The newspaper presents Sarah Gross, a high schoo...
2020 was the tenth anniversary of Genius Scan's creation. We had planned to throw a party, but the pandemic decided otherwise. Luckily, we've been able to fo...

The Holiday Season is a time of gathering. This year makes it difficult or unreasonable for families to reunite, so you might not have the opportunity to all...