Genius Scan 1.3.2 for Android
We are excited to announce the release of Genius Scan 1.3.2, packed with new features and improvements.



Browsing your documents is now easier as we added the ability to swipe between the pages. Instead of going back and forth between the document view and each page, you can just swipe left and right to switch between pages.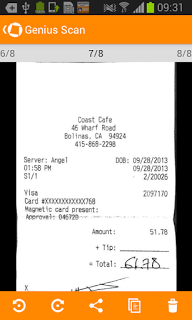 Swiping between pages
We completely reworked the export screen to reduce the number of steps required to export a document. After you open the screen, you just need one tap on the export plugin of your choice to export your document. Genius Scan also remembers all your previous choices (quite genius, we know!) so that it's even faster subsequent times.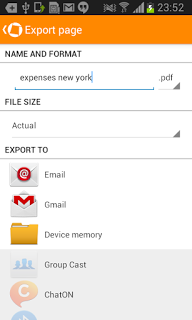 The new, streamlined export screen.
One of the most requested features was the ability to export your scans and documents to the device memory or SD Card and Genius Scan now supports that! Select the "Device Memory" option in the export view and choose in which folder you want to export your documents.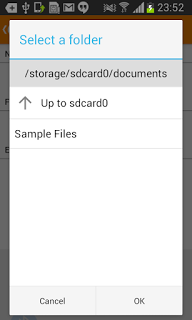 Export to the SD Card is now available.
Often, when you export by email, you always email the documents to yourself. We made that faster and are saving you some typing; to set a default recipient, open the Genius Scan settings and use the Default Email Recipient setting. Anything you put there will be used in the To: field of any email sent from Genius Scan.
Go to the settings to set a default email recipient.
We made a lot of stability enhancements. If you're technical, we fixed a bunch of memory leaks. When you manipulate images, you don't want any of this leaks because they will eventually lead to the application crashing. So if there are any, you want to plug them as fast as possible and we've done that. We also fixed issues related to the image being incorrectly rotated after export. We also fixed a bug which would export several copy of the same scan to the Gallery. Last but not least, we made minor design tweaks.
We hope you will like these changes. We think they are cool improvements. As always, we value your feedback more than you can imagine, so feel free to shoot us an email at
android.support@thegrizzlylabs.com
.
---
Recent posts
We have officially joined the 1% for the Planet movement.

Genius Scan has always supported the major world languages, but we decide to take a step further: Genius Scan 5.2.1 localizes the interface for nine addition...
With Genius Scan 5.2, we wanted to make the scanning experience even better. We focused on the feature that was most requested by our users: text recognition...

"But… now that you've created Genius Scan, what are you working on?", friends keep asking us. Well, Genius Scan is never done. We have been working on it for...